Sponsor Mascots In Game Entertainment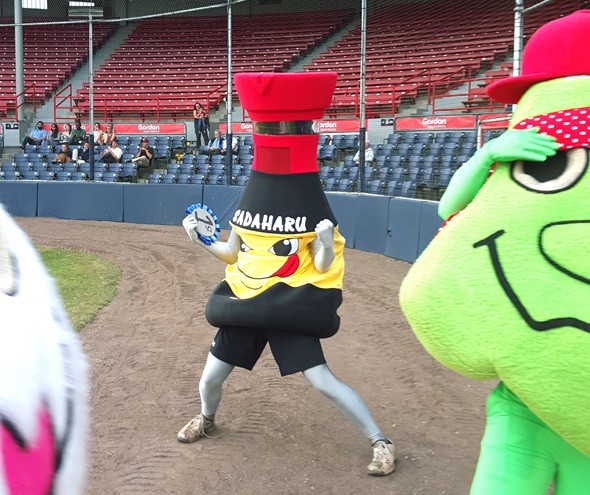 There are so many ways to use your mascot for promotional purposes, but today we'll be looking at In-Game Entertainment – which might just help make you a little profit! We are sometimes surprised by how few teams take full advantage of their mascot at a game. We are also surprised that there aren't more mascot antics in games. This subject may seem like it's only of interest to our sports clients, but corporate clients: this is for you too! How can local businesses and local teams mutually benefit from mascot promotion: Sponsor Mascots!
Sponsor Mascots are an opportunity to bring a brand to life, in a way that is more dynamic and memorable than your typical stadium sponsorship branding. They provide hilarious entertainment during game down-time, and excellent exposure and "positive press" for a sponsor.  Tommy Benizio, a sponsor mascot aficionado weighs in, "Utilizing a sport's team's mascot as a vessel to promote a business is really ingenious in my opinion — fans by the thousands recognize him and watch his every move and antic. I believe it to be one of the most effective partnerships that a team can offer a corporate partner."
Before we get too carried away — maybe we should stop and address the question — what are Sponsor Mascots?
There are typically two different business models when it comes to sponsorship mascots. In the first model, the mascots are owned by the team.  It could be a set of characters that the team "rents" out to sponsors for in-game promotional purposes or it could even be the team's own mascot character (wearing a company t-shirt or sponsor patch.) These characters can be cartoon human characters, animals, fun and lively "muppets", and everything in-between but will only be seen in in-game entertainment.  The second model are mascots purchased by a sponsor who participates in game activities for a fee. They are often a commodity object (e.g. a hotdog, chip bag, toothbrush, deodorant, etc.).  These mascots can often be found outside of game activities and be used for promotions wherever the sponsor deems appropriate.
So, you've read this far, and are thinking to yourself: "hmmm, this sounds like a good idea." What now?
When is the best time to set up a sponsorship agreement?
The off-season is typically the best time to set up a partnership as this is "down time" when a team can shift its focus to planning for the upcoming season. This is the time during which a sports team's representative may be looking for partnerships for the upcoming season and when businesses may have more luck securing a sponsorship position with a team! Mascot sponsorship opportunities tend to get snapped up quickly because sponsor mascots are such a hit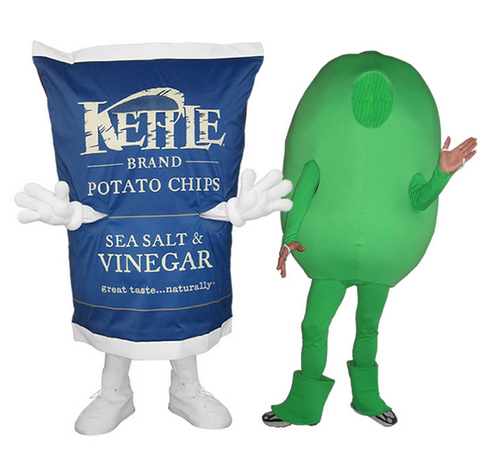 with crowds and generate excellent exposure for businesses. KC of the Iowa Cubs shares that in her experience, the fall and winter months are the time during which sports teams begin planning for promotions for the following year. She states: "we use our off-season to review promotions with current sponsors and implement any new opportunities." Jeff Holloway of the Vancouver Canadians tends to agree: "the best time for anyone to reach out to us for a partnership is really as early as possible as our inventory is very popular and delivers results for businesses."
Who approaches who? The team or the business?
There are no hard and fast rules when arranging a partnership between team and sponsor. If you're a business, and you feel that mascot sponsorship would be the right path for you, then it's definitely advisable to hustle a little as sponsorship opportunities can be quite competitive, especially with major teams. Tommy Benizio feels that "in a Utopian society, the majority of a team's corporate sponsors would seek the team out." KC from the Iowa Cubs relays that while potential sponsors usually reach out to them, they "do propose the opportunity when the time is right." If you are a business seeking sponsorship opportunities, you may have to "chase" the big teams a little more, as you will no doubt face some competition when trying to land a sponsorship deal.
Who typically owns the sponsorship mascot?
It depends! It's definitely advantageous for a business to own a sponsorship mascot, as this opens the door for many more promotional activities in the community. Tommy Benizio shares that he feels "a smart business will take this exciting concept and utilize it in parades, local events, other sporting venues and more."  However, many major sports teams own mascots that can be uniquely branded for games at a fee (so it's always worth inquiring about this if you're a small business and owning a sponsor mascot seems out of reach!)
What are some important construction considerations?
Material
Sponsorship mascots are mostly made out of soft foam as they usually get into a fair bit of shenanigans during games and need to protect the performer during races, being tackled, and "rumbling". In some cases it may be wise to have the outside material be removable for machine washing (or, if you are a sports team buying a sponsor mascot — for removable branding/sponsor changeover.)
Sizing
It's important to consider technical details like size, height, depth and armhole placement when it comes to running/sponsor mascots. It's also important to consider activity level and type. If a mascot is doing a lot of running, you will want to make sure that its legs are not obscured. If it's going to be throwing things you'll want to make sure that as much arm protrudes out as possible etc.
Face Visibility
If the sponsor mascot is mostly used for fan contests, a visible face is a good idea. Imagine how funny it would be to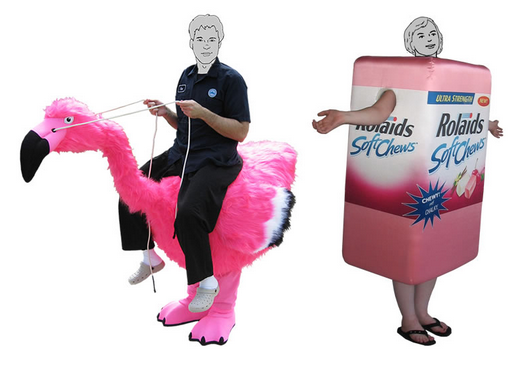 see your Uncle Jim dressed up as, say, a piece of bacon or sitting on a pink flamingo! If the mascot is not going to be used for skits or planned events, it might be more fun to give it a goofy or friendly cartoon face that plays on the brand of the sponsor etc. rather than the performer's identity.
Removable branding
We find it best to provide a removable cover rather than removable logos for a sports team buying a sponsorship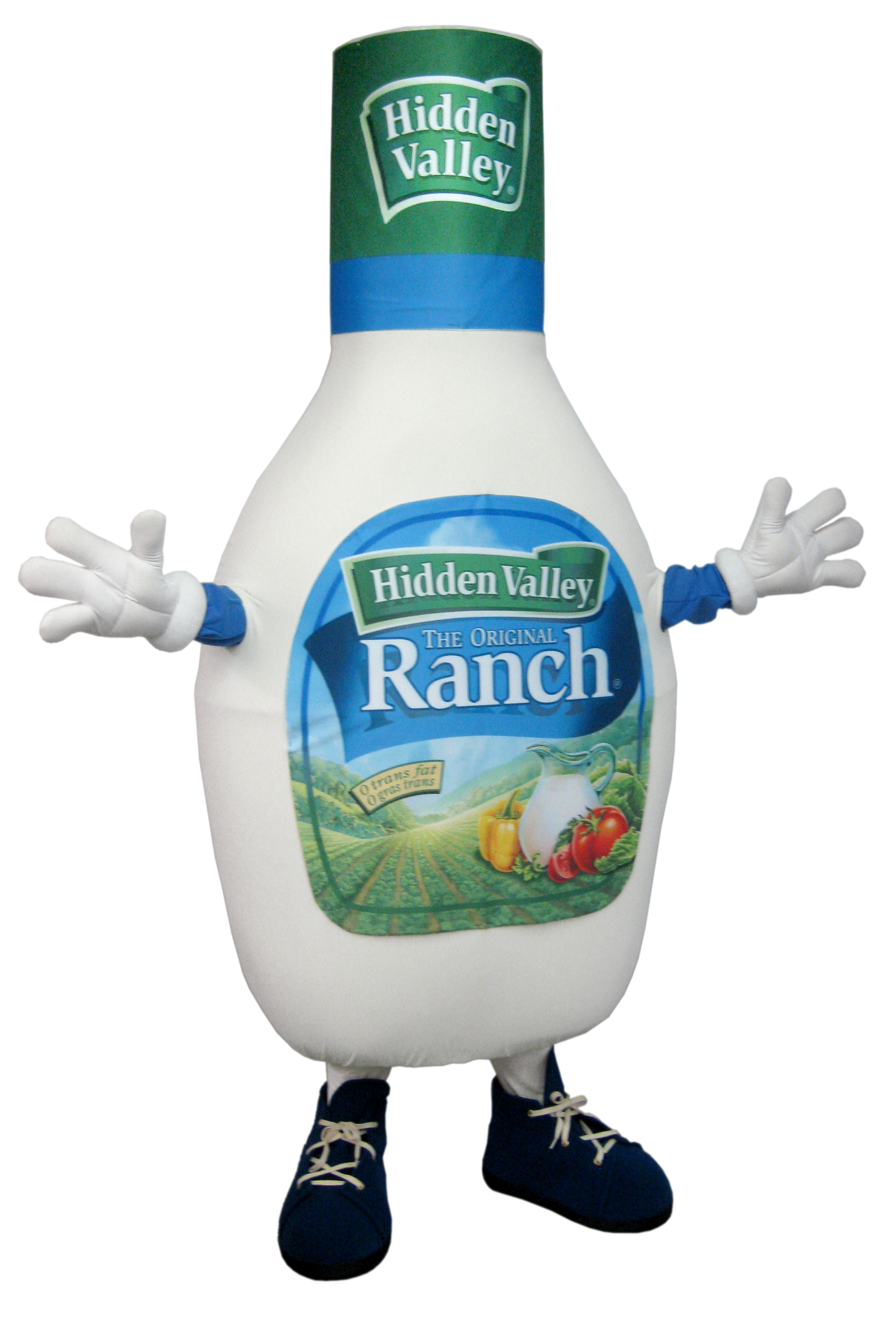 mascot. This will allow branding to be switched in and out depending who the sponsor is at the time. It's important that branding be legible, but keep in mind that too much branding detracts from the character.
You've secured a sponsorship mascot. Now, how can it be used?
Get creative! The sky is really the limit when it comes to in-game sponsorship mascots. Tommy Benizio shares a memorable sponsor mascot event:
"While I am certain that other brighter minds have come up with even more creative ways to make use of their corporate mascots, I laugh at one situation that I was involved with years ago when I owned the indoor football team in Odessa, Texas.  In the pre-game each night, just after the players storm the field and the national anthem grows the intensity of the atmosphere, we played the William Tell Overture (Lone Ranger theme song) and our Plumbing Company-sponsored mascot, a very comical human toilet would charge the field running a chaotic pattern towards the center of the field.  Just before reaching that mark, a well-built plumber featuring the company logo (which match the logo on the toilet costume) who almost violently tackle this mascot, after which, he would stand up, pull the game ball out from under the toilet lid and seat, and hand the ball to referee for kick off.  Of course this element was promoted as "Tackle your Running Toilet" through the PA system and video boards.  It was very memorable for the fans and I believe very effective for the local plumbing company!"
Other ideas for in-game mascot usage include (but are definitely not limited to!):
races
contests
skits
dancing
meet and greets
giveaways
So, a sponsorship mascot sounds like the right choice for you? Work out a deal, find a corporate sponsor (if you're a sports team), or a sports team (if you're a corporate sponsor) and get started! Be sure to get a mascot company on board to help with the design or the ideas (ahem) — we are here to help! Be sure to remember; put the fans first! Rather than focusing on an overt advertising, focus on keeping your In-Game Entertainment light and fun and relatable to your audience. Tom O'Grady, president of Gameplan Creative, shares: "you want to sell everything you can but you want something that hooks the fans in." In other words, don`t be afraid to get creative! Sound good? Get your sponsorship mascot and let's play ball!