JP, a Custom Marshmallow Mascot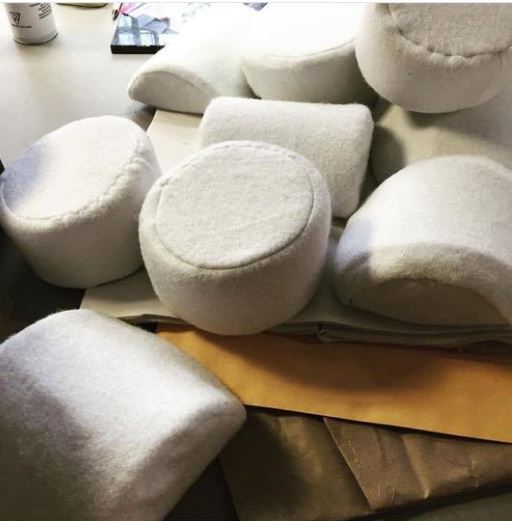 Making a custom marshmallow mascot was one of our most rewarding jobs (and not just because we were sent samples). Our client, Alejandra, Founder of The Marshmallow Studio and Social Media & Digital Marketing Manager for Kraft Jet-Puffed Marshmallows really knows her marshmallows, so we knew she would be particular. Alejandra was seeking to have their mascot look identical to the classic packaging that Kraft is known for but it had to feel good too. What a fun challenge!!
During the mascot pre-production process, we worked with Alejandra to determine exactly how we would accomplish this custom made marshmallow bag replication. Together, along with our in-house production team, we decided to use a clear vinyl to replicate the plastic marshmallow packaging. They also requested custom marshmallow shapes on the top and bottom (under the vinyl) to give the illusion of real oversized marshmallows. This guy needed to walk around and provide hugs while looking and feeling like a real giant bag of marshmallows! So, we created the marshmallow shapes out of durable foam which was then covered in a white fleece, the perfect material to give them that pillow-y marshmallow feel. Marshmallows good enough to eat (only don't actually eat them!)
JP (the marshmallow bag's name) wasn't without challenges, however. The production team had to work around the big logo and find a way to place the armholes and vision screen as strategically as possible. Special consideration also had to be taken to ensure that the costume was light enough to be comfortably worn by a number of performers and
small enough to easily fit through doorways. And, of course, the performer needed to breathe inside this big vinyl bag, so we needed to make sure it didn't steam up. Our team worked together on the challenges and consulted with Alejandra to effectively achieve her vision and handle any functional curve-balls.
With Alejandra's input and approval, the team managed to pull off a pretty impressive replica. JP was so convincing, actually, that when G.M. Jennifer deVita showed a picture of the mascot to her kids, they replied, "Mom, why are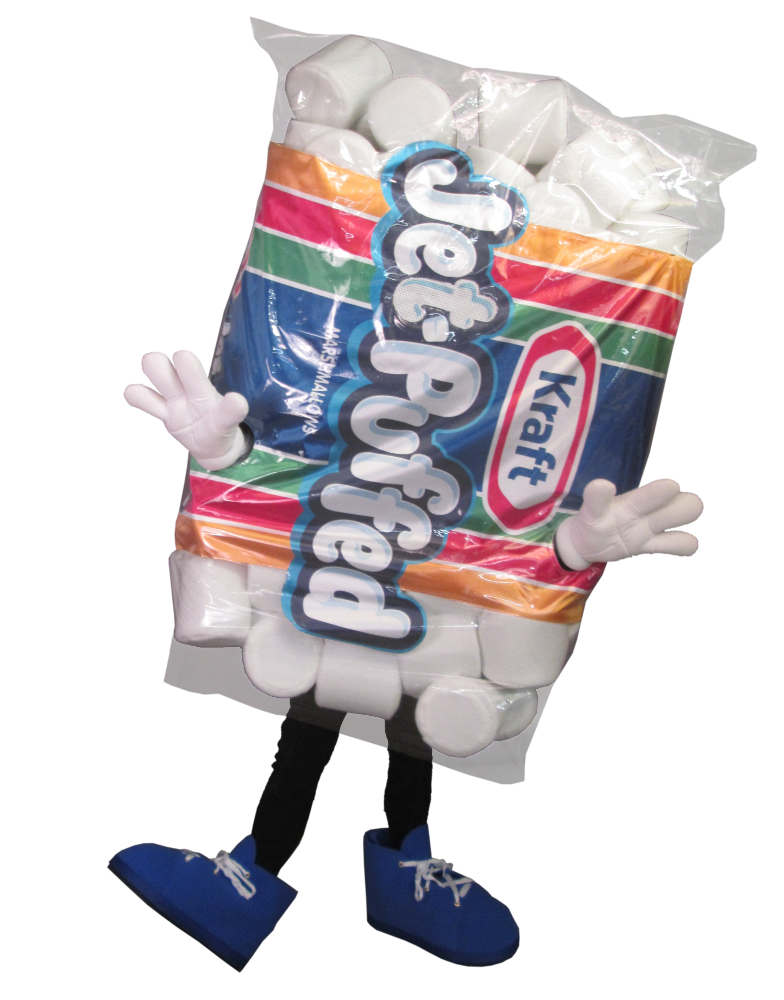 we looking at a bag of marshmallows right now?" Alejandra shared that they are excited to use JP at conferences, expos, and other events. She shared, "EVERYBODY loves JP (our mascot's name). They can't believe how real the marshmallows look and that he actually smells like marshmallows." It turns out that her team also ended up purchasing marshmallow fragrance cologne to spray the mascot with.
How fun and yummy! FYI: the smaller bag of marshmallows shown in the picture above didn't survive long in our shop once the mascot left for his forever home!