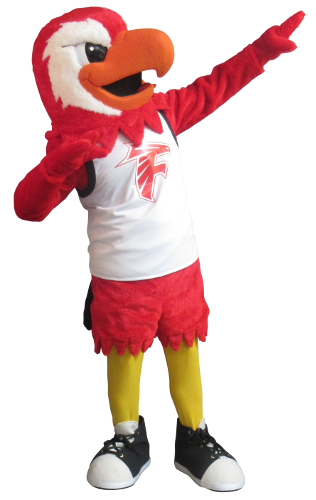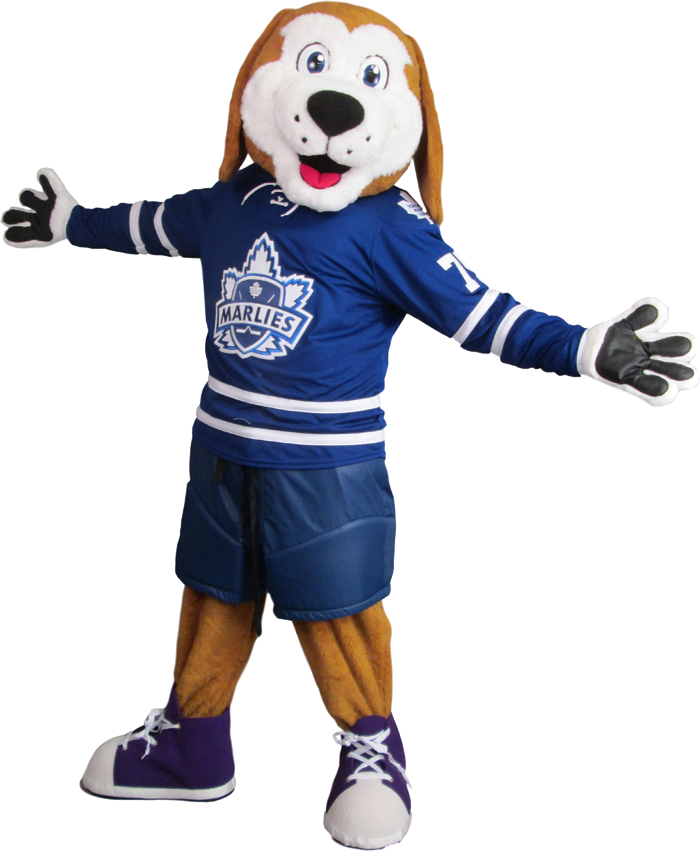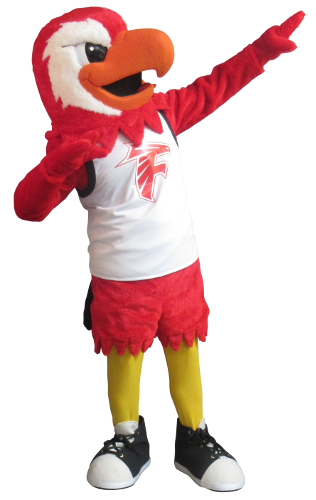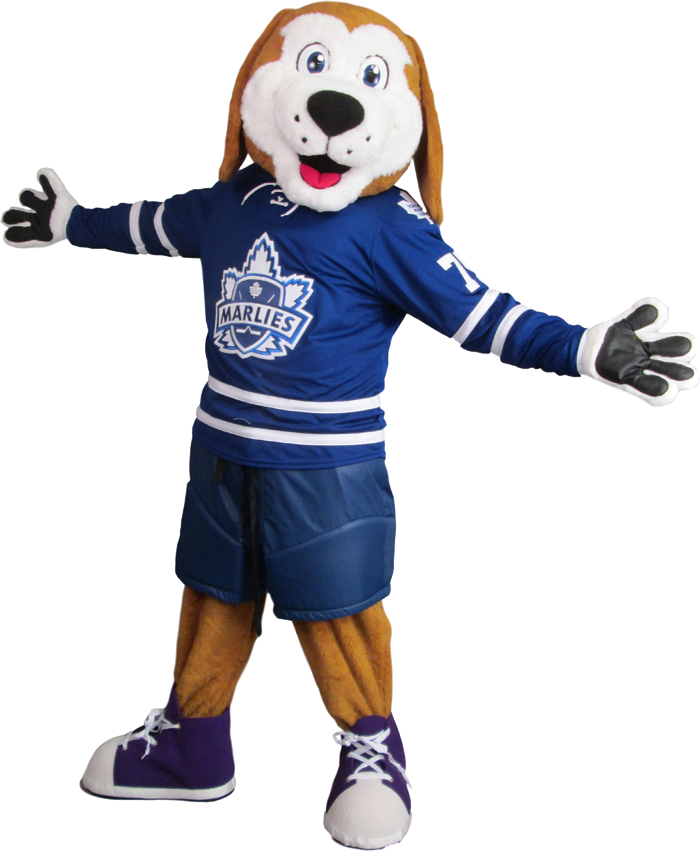 A mascot just might be one of the best investments you could make for your corporate or team image.
Mascots build team spirit and cooperation in schools and the community. Sports teams have shown repeatedly that mascots enhance your corporate image and are very effective for building loyalty and recognition. A good mascot costume will enhance the visibility of a company, team, school or brand and creates a meaningful experience.
Mascots create goodwill for your organization
A well designed mascot will eventually come to be your well known and instantly recognizable branding. Mascots can interact with the public in real life, real time and create an emotional connection with your brand audience. Someone probably won't remember that message you posted through social media last week, but they will remember the time your mascot danced with their child (and their child couldn't stop talking about that mascot for weeks afterward!)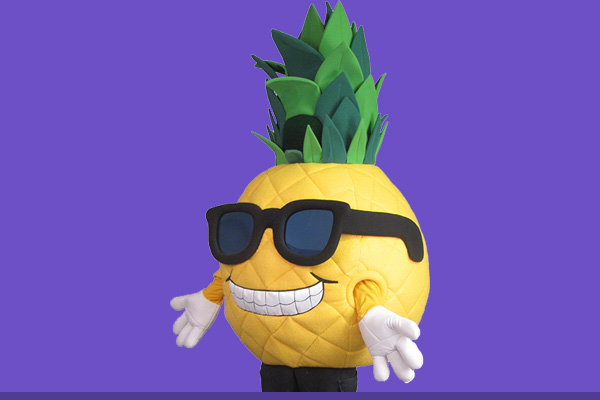 Mascots are much more than a costume
A mascot becomes the brand ambassador for your company. This character can be used as part of an integrated marketing plan across different mediums, or on its own, to help to create a unique identity for your company, school or sports team.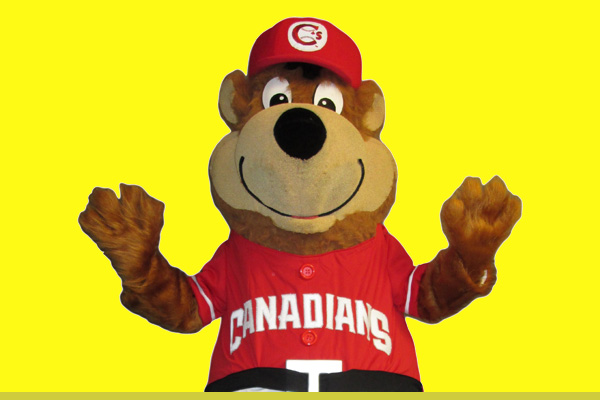 Mascots are memorable
We are bombarded with advertising messages through so many mediums that we have become desensitized to them. Often, we are given a choice to just 'skip' the advertising! Using more tangible modes of advertising (such as a mascot) will make you stand out. A three-dimensional , hugging, high-fiving mascot will enhance an already established marketing campaign, or you can use it as the basis of a fresh new campaign.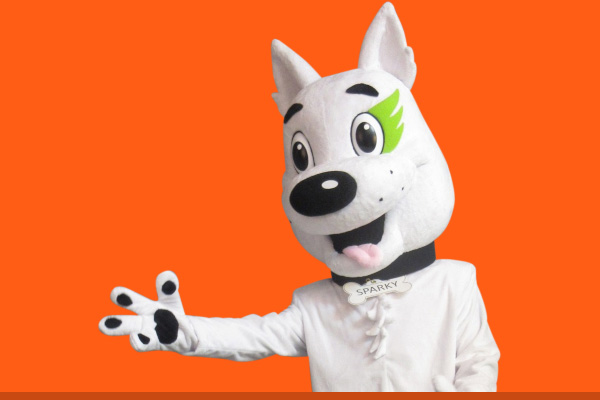 The dollars and "sense"…
Yes, a mascot may seem like a big upfront investment. However, this is more than just a monetary investment. This is an investment in the future of your brand, in your school spirit and participation of your sports team. Over the ten or more years that your mascot will last, using your character for promotional purposes will cost exponentially less than many other mediums including print, radio or web marketing. Marketing with a mascot just makes sense!
Finally! You have your mascot! Your vision has come to life… now what?
With a little clever thought behind your marketing to ensure that your mascot costume has strong ties to your brand identity and your marketing message, your mascot can generate a lot of attention from both the adoring public and media journalists looking for a good human interest story. Creating a Mascot Plan will help keep you on track! It isn't enough to just bring your costume to a couple of events, and hope to turn a profit.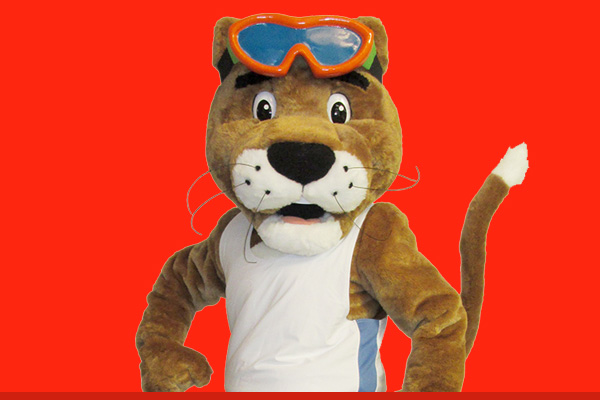 Come up with a mascot program
The more you put into your mascot, the more you will get out of it! A detailed Mascot Plan should outline your character's personality, your target market, your marketing message and the basic how, when and why your costume will be used. Think of it as a work in progress, as you may want to change the message over time.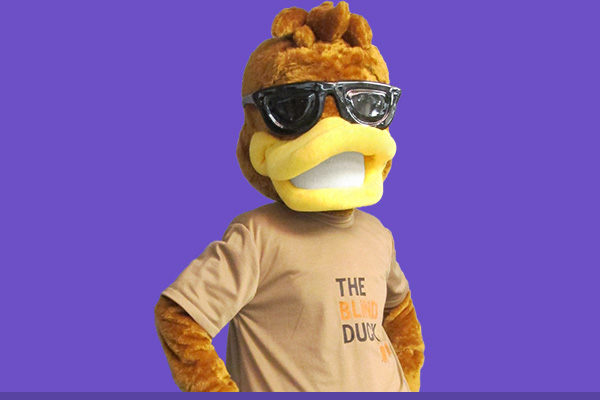 Make your mascot a local celebrity
Use your character to gain local awareness for your school, sports team or organization. Consider signing your mascot up for charity walk-a-thons, parades, street appearances and photo opportunities in the media. If used correctly, a mascot can truly be a popular local brand ambassador.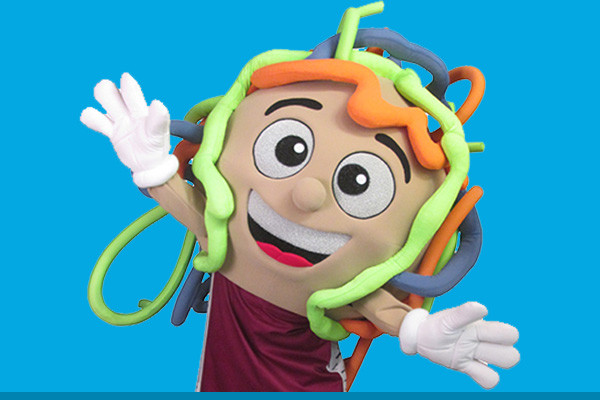 Get creative
Think about unique ways that you can build your brand and develop this character. Perhaps you would like to provide personal appearances for hire. Perhaps you would like to sell a colouring book, or stickers, or sell stuffed animal versions of your character. Perhaps you would like to add graphics of this character to your website and other branding. Have fun!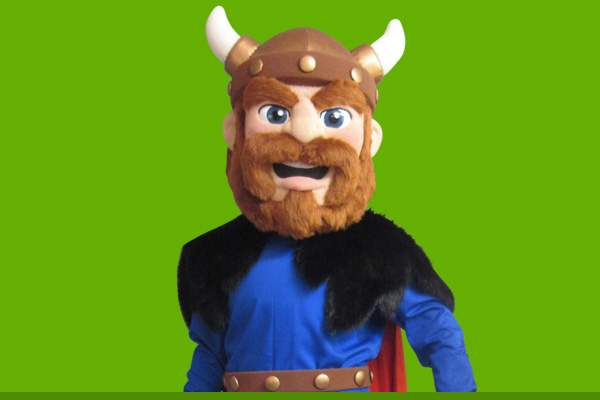 Personalize social media for your mascot
Provide your mascot with even more opportunities to interact with the public by creating a Facebook, Twitter or Instagram account. Consider having your performer run these accounts as your mascot character to help build and maintain a fan base for your character!
WHAT OUR CUSTOMERS SAY
We LOVE Fiona the fisher!  She showed up yesterday just in time for me to put her head on and walk into the start of our staff meeting. Folks are completely astonished at the quality of the costume, especially how realistic the fur looks. Thank you for working on this with us, and for producing such a top notch product!

US Fish and Wildlife Service

She looks WONDERFUL!  We're delighted to have her here and look forward to using her frequently.  Thank-you so much for your patience and your feedback - it was a pleasure to work with you and your staff.  Have a wonderful week and I'll be sure to say nothing but GREAT things about you guys.

Marymount Academy

I have met Elliott (the beaver) during the 10th year party that was held on September 9th and I can confirm that parents and students were quite impressed by Elliott. Your team did a great job! Please thank all your team members.

École élémentaire catholique Pierre-Elliott-Trudeau

Our Saanich Police mascot arrived late Friday afternoon and looks great! What a first class costume... It looks fantastic...

Sergeant, Saanich Police Department

Just wanted to say the whole office LOVED the mascots and we had a great time wearing them and making them bobble last night.  Tell everyone we were blown away by the quality of work. Thanks!

Boom Marketing

He's very cute!  I'm sure he will be loved by all in the Guelph community.  Thank you very much to you and your team at Sugar's for putting this together in such a tight timeline.

Z Factor for Guelph Police Service

You created an absolute masterpiece.  In fact, I will go on record to say this is one of the best looking mascot costumes I have seen in my 23 years of sports management.

Sioux Falls Stampede Hockey Club

Just a note to let you know that the mascot has been extremely well received. The kids love him and he can hardly walk for all the kids around him - kind of reminiscent of peter piper! We are learning a lot about crowd control and have a designated handler for him so he can make his way through the crowds. Omingmak is getting lots of hugs and making everyone smile. Thanks so much - he will be a big part of our annual Frolics.

The Hamlet of Cambridge Bay

We love it We are very happy with the end product and I would recommend your company to anyone due to the great customer service, quality of the product and the very, very nice people who work there. Thanks again, Dave

Vancouver Island University

I really enjoyed working together on this project. We just got our dog in today and I tried him on! Your team has done an awesome job. The goggles are amazingly well done! They look like they were made of real caribou antler! The fan is great too. The body is nice and buff...loving it!

Department of Culture, Language, Elders and Youth, Gover

I have to say again that He looks amazing...I am so glad we went through Sugar's Mascots. The professionalism on all levels of your company has really been great!! I do appreciate your hard work and the passion everyone has there for what you all do!!

Saskatoon Police Service

I just wanted to thank you for your diligence and resourcefulness to make CAPER the best looking mascot I've ever seen. We did a rehearsal run with him yesterday and it looks terrific!! He'll be meeting the students today at noon with a big celebration taking place with our first day of classes. Any recommendation you want from us in the future, don't hesitate to ask.

Cape Breton University

Yes, yes, yes! Our Spartan has come! He is magnificent! He will be presented at an assembly tomorrow and we're sure he'll make a huge impression. Thank you so much for accommodating us these last two weeks!

Margaret Barbour Collegiate

I wanted to thank you for your outstanding work on Les Watts. We received him yesterday and were thrilled not only with how he looked, but with your attention to details. Sending a birth certificate and a personalized thank you card are both lovely touches.

strategie Revolution strategy

Savertooth has made it here safe and sound. He's so adorable we can hardly stand ourselves today! He appears to be in perfect health, his fan unit works... and we especially like his birth certificate... very nice touch... we plan to have it framed!

BECU; Learning & Development/Financial Education

He's a huge fantastic wonderful and furry addition to our staff. The kids went mad over him. Thanks so much for your wonderful work and thanks to Sugar Mascots.

Parks Canada -Public Outreach Education Officer

Everyone who sees Mikey is instantly happy and delighted. People in cars passing by are shouting, waving and blowing the car horns. We are planning on an official arrival event for Mikey next week at the corner park where our sign is located . We hope to get coverage by out local papers. Thank you for producing Mikey for us.

Main Street Dartmouth and Area B.I.A.

HE IS PERFECTLY AWESOME!!!!!!!we are all standing here looking at him and we are beyond pleased. Thank you and your team so very much!!

Town of Labrador City

... just a quick note to say "Thank You" to everyone at Sugars. Everyone from the first phone call to when he arrived were all so helpful. "Flip" arrived on Friday afternoon and was a huge hit! All the staff was totally impressed how much he did look like our "logo in real life". He was in a parade on Saturday and the kid (+ adults) absolutely loved him - he got hundreds of hugs!!!

Westridge Electric Ltd.

The costume handled very well at the game. This being the longest I've had it on since a video shoot we shot about two weeks earlier, I found it quite comfortable and a lot more expressive than our old suit. I've noticed that the fans seem to react a lot better to this costume as well. Their excitement level has really shot up. Thanks for crafting our new costume. I feel like a whole new bird, so to speak!

Rochester Knighthawks

We have used him in our Open House Rally! We are planning to use him... for recruitment and all our events next year! Thank... all the staff for the work they put into him! He came with a lot of character- looking fierce!

Roseland Collegiate Prep

Trax is going over better than we could have ever hoped for. We have had nothing, but positive responses at all of our events! We had 7 appearances in May alone. Wherever we go we are hearing "look its Trax" not "look it's the rail runner".  We are actually starting to get requests from the public to attend their events. Again, a special thanks to you and everyone at Sugars who brought our vision to life.

New Mexico Rail Runner

Falco was "born" today. A huge success, the kids love him. Our idea was that Falco would start shaky on skates and improve during the match. From next homegame he will pick up the speed since he is then a week old and has "practised" the whole week. Thank you again. It's been great working with you.

Stjernen Hockey

I would like to thank everyone who worked on our wonderful Mascot. He was a HUGE hit at our tournament. He brought an air of fun and celebration to our event. Huge smiles, hugs and high fives were shared, pictures were taken and memories made! Visiting teams were so impressed, they will remember our little town forever... We will definitely recommend Sugars Mascot's to anyone who asks... Thank you again for everything!

Winfield Minor Hockey Association

Our Olympian mascot "Torchy" was a huge success. Our students went wild when he made his debut... The entire process with Sugar's Mascots from beginning to end was excellent. We are so happy with the final product. Thank you for working with me and building a mascot for our school!

The Academy at Nola Dunn

I just wanted to let you know that the Bull arrived today!!! You can't imagine how exited we all are and I wanted to thank you for such a responsible, amiable and excellent job you guys did … thanks for being so kind and so into our mascot and taking so much care of us as customers. Be sure that we will recommend you with our eyes closed and we will always take you in account in any further mascot character. Once again thank you and your crew so, so much and we are extremely happy, it is beyond what we expected.

Collegio Granandino

We just got him…It looks even better in person than it did in the pics…You guys get top marks for customer service!!

Stonewall Collegiate Institute

…Everybody loved Clockey! He looks terrific. I was also surprised and impressed by the owner's manual that came in the box. It is very comprehensive and useful – even the tips for how to be a good mascot. The whole thing looks really good.

Bakersfield City School District

… Instantly everyone loved the Dude.  Everyone wanted their picture taken with the Dude.  We carried the Dude all over the country to shows and exhibits.  We'd walk around display halls and people would immediately think of SchoolDude. It became the symbol and instant reminder of what we did and how and helpful that the Dude actually is…Fast forward to today and SchoolDude has grown to the point where it is the leader in the industry… So your company (Sugars Mascots) can make a huge difference in the success and branding of a company if done properly.

DudeSolutions.com

It was such a pleasure to work with Sugars Mascot Costumes. The entire process was such a joy and we appreciate the attention to every detail. ... thank you for such a wonderful experience as you brought Mr. Owl to life right in front of our eyes!

Chi Omega Executive Headquarters

He arrived safely and we LOVE IT!!!! Had so much fun unpacking our new mascot with both of our principals and everyone is super pleased with the quality of your product. I appreciate all of your help and support during the process, it was a pleasure working with you and your team!

Ridgemont Local Schools

... how much we have enjoyed our new Mascot – "Appy" the Happy Duck. You all did an excellent job on him and he was certainly a hit all during our fair in August! It was very hot but we had a couple young people who did a great job!! Thanks to you all for your hard work designing and making him for us to have for many years to come!

Appalchian Fair

Thank you so much! Your customer services was amazing. Feel free to follow our page "energetic city roller derby association" for updates on shotgun Sally including her formal debut and where we take her. We will highly recommend your company to other teams and organization.

Jennacide

When we received our mascot we were blown away by the quality of the materials and the craftsmanship of the sewing. Overall I highly recommend Sugar's Mascots to bring your character to life. They did a great job, and when people see our mascot it always brings a smile to their face.

Lockout

Our school went through Sugar's for our mascot... We started with a basic drawing one of our art students drew up for us based on what we wanted. They were able to design it and tweak it based on what we wanted. They were EXTREMELY patient with us and communicated with us every step of the way... went above and beyond to help us! Thank you

Eastlake High School

That looks awesome!!!! Today was actually our 1st day back to school into the building. This was a welcome pick me up after a day of crazy new co-vid procedures.

Leipsic High School
NEED MORE INFORMATION
Sugar's Mascot Costumes has been making mascots with heart since 1985! If you are interested in having us create a custom mascot for your company or would like information about cleaning & repairs, please complete the following form or contact us in person or by phone.