Branding on Your Mascot: Logo Basics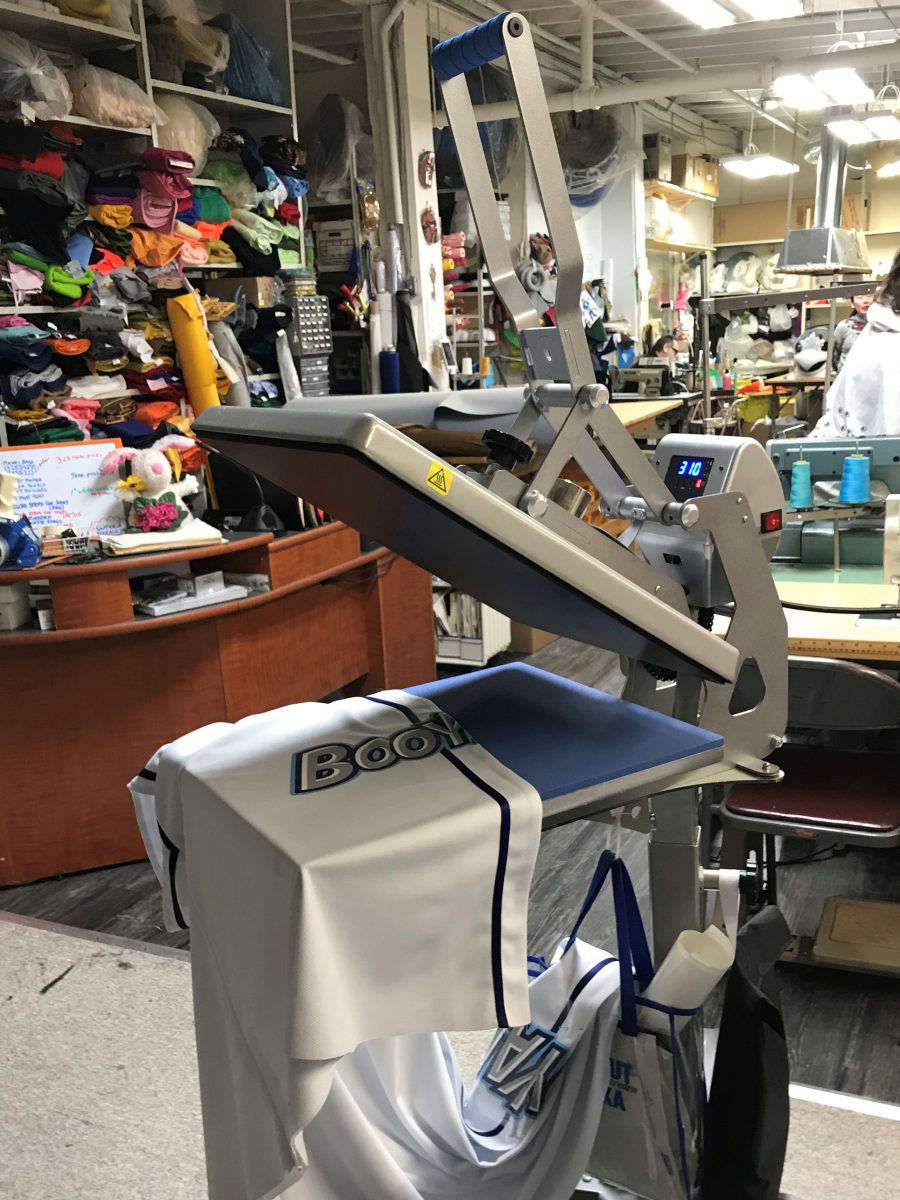 Adding a logo to your mascot is always an excellent idea for brand recognition and promotion but, it's important to understand the different options and the requirements and even limitations of the different style of cresting. Logos allow your mascot to be identified as your brand character, however poor cresting choices won't do your brand justice when he or she is out in the community or on social media. Having a solid understanding and working knowledge of your cresting options before you start will help to make sure that your logo is effectively displayed on your character. The last thing you want is your mascot wearing a sloppy, pixelized, or barely visible logo!
Different Logo Application Options
Heat Press
A heat press is a machine used to imprint a graphic on a piece of clothing, with the application of heat and pressure for a pre-set period of time. Heat press is our go- to option these days for a polished, slick, modern look. It is also the cheapest logo application process that we offer here. Heat pressed logos are great for detailed logos and shading, as they are an exact ink replica of the high quality logo file provided to us. The heat-press of your branding is very effective, gives a modern look and is pleasing to the eye.

Embroidery
Embroidered logos are created using needlework. They are a more traditional form of graphic application and can look very beautiful and sophisticated. Embroidered logos can really suit the style of traditional garb like lederhosen and period clothing (think patriots, pirates, kings, and other "old timey" characters). Embroidery also works best if you would like your mascot to have the appearance of "patches" on their clothing, like on Amelia Bearheart's bomber jacket to the left. Although embroidery can look quite stunning, it also comes with certain limitations. Threads utilized for embroidery only come in certain colours, so colours may not be as accurate as with a heat-pressed alternative. It is also not possible to effectively capture other fine detailing like shadowing and gradients with embroidery. If you decide to move forward with an embroidered logo, we may end up requiring a very specific "clean" logo file from you that will be suitable for our purposes. This branding is long-lasting and effective.
Appliquéd Cresting
Appliqué is the art of decorating garments with pieces of fabric to form pictures or patterns. We may recommend appliqué for you if you have a very simple graphic or simple lettering that you would like to have a soft fabric look to it, rather than a heat pressed look. Appliqué can also be the best choice for large simple graphics applied to a mascot costume (think spots added to a dog mascot etc.) Appliquéd logos are very durable and are sometimes chosen for the flexibility of placement in a difficult spot or to match another fabric perfectly.
Important Considerations
Logo Placement
Make sure to choose a place for your logo that makes sense (i.e.: not hidden under your mascot's hair or clothing…. Trust us; we get some funny requests sometimes! ) Most schools will put a logo on the front of their mascot's shirt, and often add a name and number on the back to give the shirt that collegiate look. If your character is a shape mascot wearing shorts, you may want to consider placing a logo in the corner of his shorts. Placing a logo on a character's hat is another option. Whatever you do, make sure you pick a spot where your logo will be visible and legible. The last thing you want is to have a totally invisible logo! Typically speaking, we will pin your logo onto your mascot's clothing in advance to get your approval on placement before it is officially applied.
Logo Sizing
It can be a fine art to pick the right size for your logo. You want to make sure that it's big enough to be legible, but not so big that it completely overwhelms the look of your mascot. Nobody wants Freddy the Fox to look like a billboard on legs! If you are concerned about logo sizing, consider asking your Account Manager for their recommended logo measurements before the logo is printed.
Logo Count
In the past, we have had clients come to us, asking to place a logo on nearly every part of their mascot's body! Having too many logos is almost worse than having none at all. Remember that you want your mascot to be the friendly and lovable ambassador for your brand, not an in- your- face marketing gimmick!! Having too many logos can really detract from the relate-ability of your character and make your mascot come across as a too- aggressive branding tool. We recommend one of each logo on your mascot (if you have more than one that needs to be represented) *or* no more than two of the same logo on the costume.
Logo Quality
We seek to work with very high quality logo files here, so that your logo appears sharp, legible and professional. During the production question phase, we ask you for a high resolution print ready file in 300 DPI or higher. Now, this can sound like bizarre logo jargon, if you are not a graphics person. Sometimes, we may ask to liaise with the person in charge of graphic design at your company, school or sports team, just to expedite the process when we are trying to get our hands on a good logo file (and to save you the grief of figuring out what we're talking about!)
Adding a logo or two to your mascot is always a great idea! Adhere to the considerations above and you should be on your way to creating the perfect branded look for your mascot! Considering adding a logo to your costume, or have questions about the logo application process? Feel free to give us a shout.