REDUCE, REUSE … REFURBISH!
Looking for a mascot but can't quite afford one? A little bit of creative problem solving can make all the difference in overcoming this particular obstacle. In this article we take a look at how one innovative client acquired a high-quality costume on a budget.  Read on if you need a mascot for cheap OR if you are wondering what do with a costume that no longer meets your needs.
THE BACKGROUND

The Sonoma Stompers are an independent professional baseball team located in Sonoma, California. A member of the Pacific Association of Professional Baseball Clubs since 2014, they play 39 home games every summer. The Stompers provide family friendly, affordable and fun entertainment to Sonoma County, but as of early 2015, they still didn't have a mascot.
THE SITUATION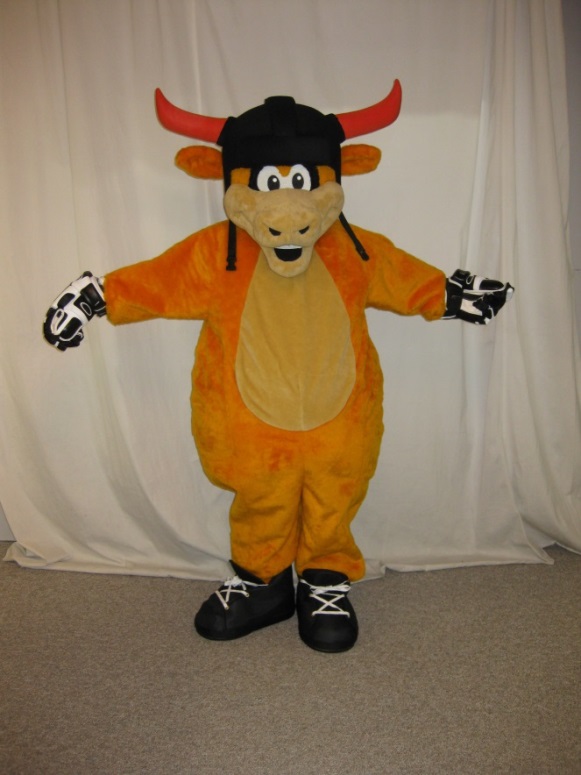 The Sonoma Stompers needed a mascot, but their budget did not allow for the purchase of a new custom-made character. How could they get their hands on a high-quality custom character, in spite of budgetary constraints? Sean, their Director of Business Affairs and Assistant GM, took on the challenge! He astutely began by researching sports franchises that had recently gone under in order to see if he could find a mascot that would work for his team. He planned to reach out to the front-end executives, and once he had identified a mascot that fit the bill, to see if an arrangement could be made.
He came across the San Francisco Bulls, whose bull mascot would work (almost) perfectly as a mascot for the Stompers. Sean says: "News came out that a local minor league hockey team was going out of business — I promptly contacted their CEO and the rest is history."
THE PROBLEM
The San Francisco Bulls were a hockey team. The Sonoma Stompers are a baseball team. Although perfect in all other respects, Rawhide was wearing a helmet and black shiny sneakers which, at a glance, identified him as a hockey mascot. How could he be transformed into a baseball mascot at a low cost?
Sean started by reaching out to a local embroiderer to make a cap to go over the helmet. It seemed like a good idea, but proved problematic. Placing a cap over another piece of headgear was HOT. As Sean shares: "Let's just say the poor high school kid in there came out well done after a 110-degree July day-game and I knew we had to get something done." Enter Sugar's Mascot Costumes!
THE PROPOSED SOLUTION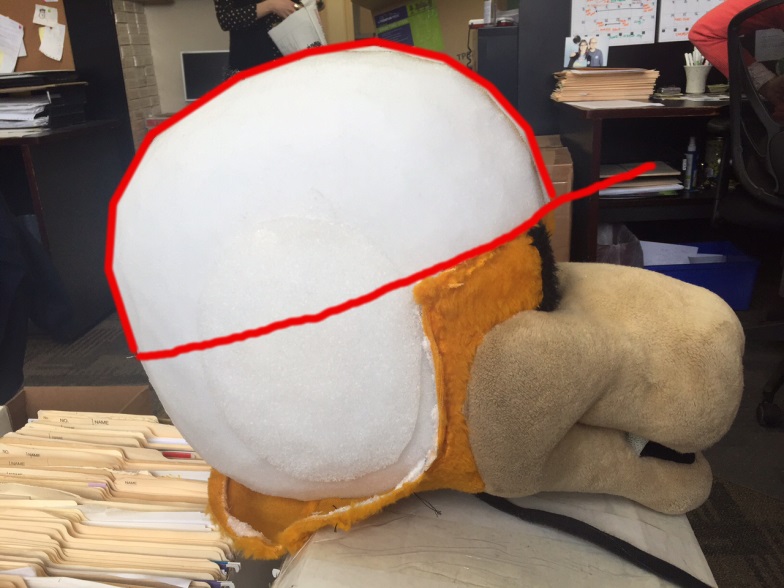 Sean reached out to us with the idea to replace the hockey helmet with a baseball cap and replace the black shoes with mascot sneakers in the Sonoma Stompers' colours.
This seemed like a great, affordable, and relatively hassle-free course of action! By replacing two major parts of the costume, Rawhide could transition from hockey mascot to baseball mascot with relative ease … or so we thought!
THE CURVEBALL
A hockey helmet has significantly different dynamics and a different appearance than a baseball cap. This wouldn't be a simple switch. It would require some creative problem solving in order to make the transition. Sugar's had two major considerations as we moved forward:
1)      Sean wanted a cool, sleek look. The easiest route for transition from hockey helmet to baseball cap would be to sit a baseball cap between Rawhide's horns. However, this would mean that the hat would sit on top of the head and would look more "goofy" than sleek and cool, which would not accomplish Sean's desired aesthetic.
2)      It was important to Sean that the hat not obscure the brow of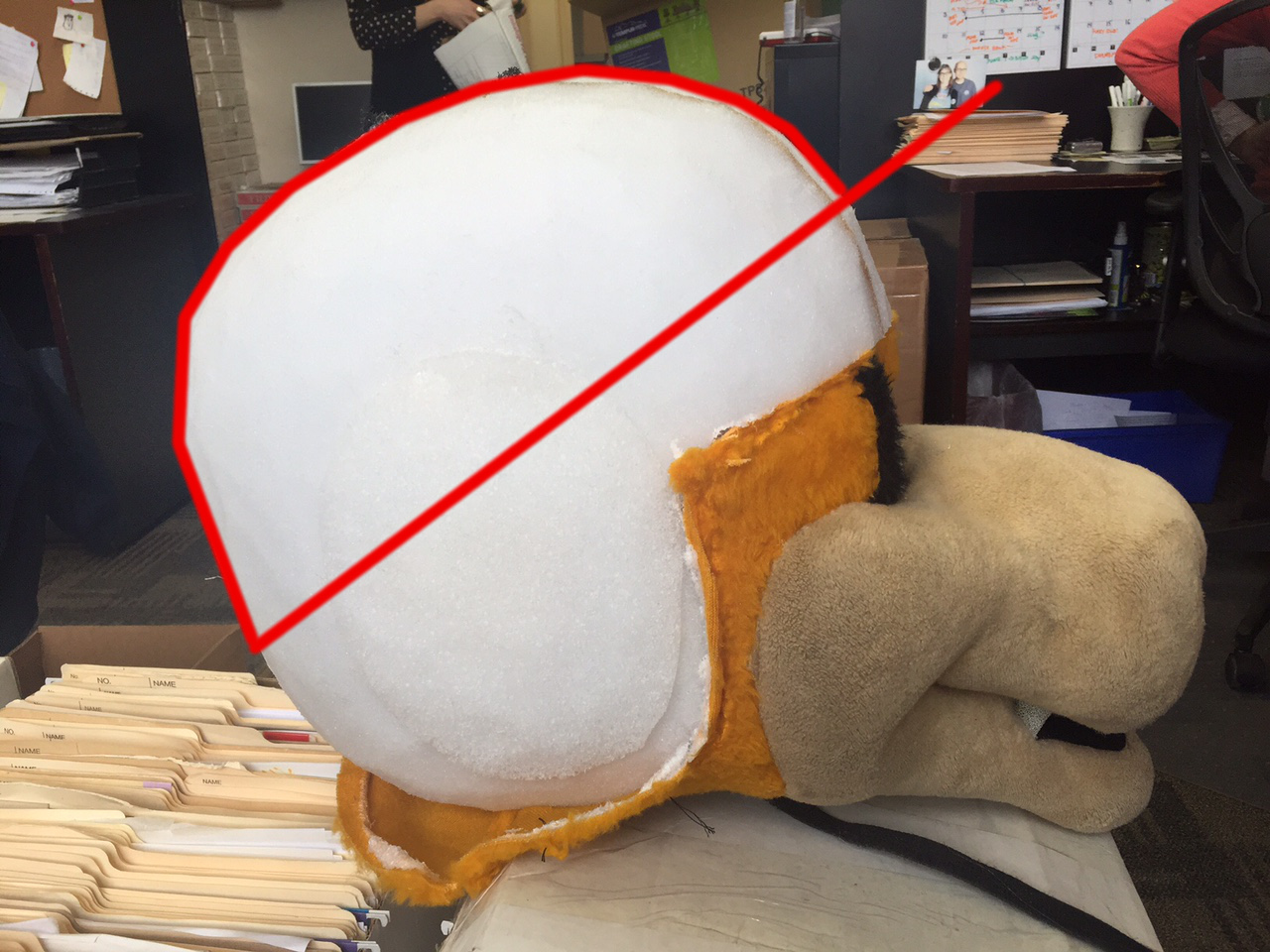 the character and hide part of his eyes, so it was essential to get the hat at the right angle. The original portrayal of the hat's angle in a rough mock-up (pictured above-left) sat too low over the character's brow and didn't look enough like a proper ball cap.
THE ACTUAL SOLUTION
It was decided to position the hat high up on the brow with the brim angled up and to fill in the space below with some more orange fur (which we still had in-house!). We would build the hat with the horns coming out of the side to achieve the cool and sleek look Sean wanted, and avoid having a baseball cap sitting in between the horns and/or obscuring the character's face.
For the finishing touch we built brand-new sneakers in the team's colours. This completed the look and tied whole costume together!
THE REACTION

Sean was very happy with how things turned out: "Rawhide looks fresh, lean and cool. I am extremely pleased with the outcome and the service we received — top notch."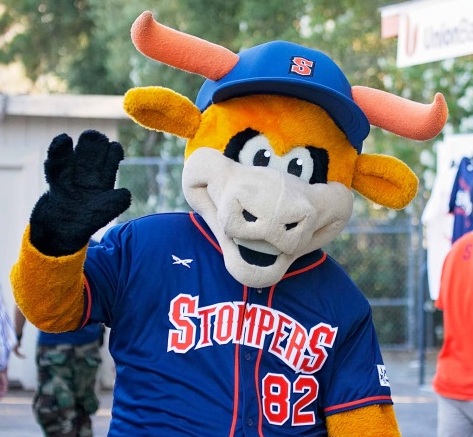 We asked Sean what his advice would be for people looking to repurpose their mascot, or to get creative on their journey toward owning a custom mascot. He shared some fantastic insights: "Have fun with it! We sold the naming rights to Rawhide to the local animal shelter as a rescue mascot. We love our bull and he is the face of our franchise." What a great idea as Rawhide is a rescue himself!!
THE TAKEAWAY
At Sugar's we do our best to prioritize recycling. We provide much of our leftover foam and fabric to various school and community programs that facilitate arts and crafts for kids! However, we are always looking for ways to improve. After helping Sean with his "mascot makeover", we would like to continue to encourage the reuse of old costumes and to remind people that something old can be new again!
Have an old costume sitting around that you want to recycle? Or are you on a budget and wondering if the reuse of an old costume is an option for you? Don't hesitate to reach out!