Mascot Showcase: Doxi the Trilobite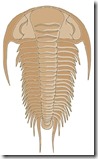 How in the world does one turn a prehistoric bug into an adorable and approachable mascot that does not scare children? This is an excellent question, and one that we were faced with several months ago when a client approached us with a request for a trilobite mascot. Yes, you read correctly — a trilobite! We are sure that our friends at the Manuels River Hibernia Interpretation Centre would kindly remind us that a trilobite is not actually a bug, but something far more sophisticated and ecologically significant!  For those who aren't aware a trilobite is "an extinct marine arthropod that occurred abundantly during the Paleozoic era, with a carapace over the forepart, and a segmented hind part divided longitudinally into three lobes" [source: Vocab Dictionary].
THE IDEA
Trilobites are of prime importance to Manuels River Hibernia Interpretation Centre just outside of St. John's Newfoundland. Pat Sword, our contact at the Centre, reports:
"The beautiful Manuels River Park in Conception Bay South, just outside the capital city of St. John's, Newfoundland is home to exceptionally well-preserved trilobite fossils called paradoxides.  This explains our mascot's name, Doxi.
Renowned not only for their good looks, the Manuels River trilobites provide evidence of continental drift and evolutionary processes.   The tie-dye coloured, child friendly trilobite mascot initiates scientific conversation while entertaining a delighted audience."
Pat reached out to us with many detailed pictures of trilobites and was incredibly helpful from the beginning of the process. She highlighted important anatomical details she expected to see in the finished product. After this, the main consideration was ensuring that the character was cute and cartoony, not scary or creepy.
THE ARTWORK
Once we had a general sense of what Pat was looking for, our artist began work!
She started out just as she would when approaching any mascot based on an animal. She collected a series of photos of trilobites (as well as the photos sent by Pat). She knew that her assignment was to make this creature look as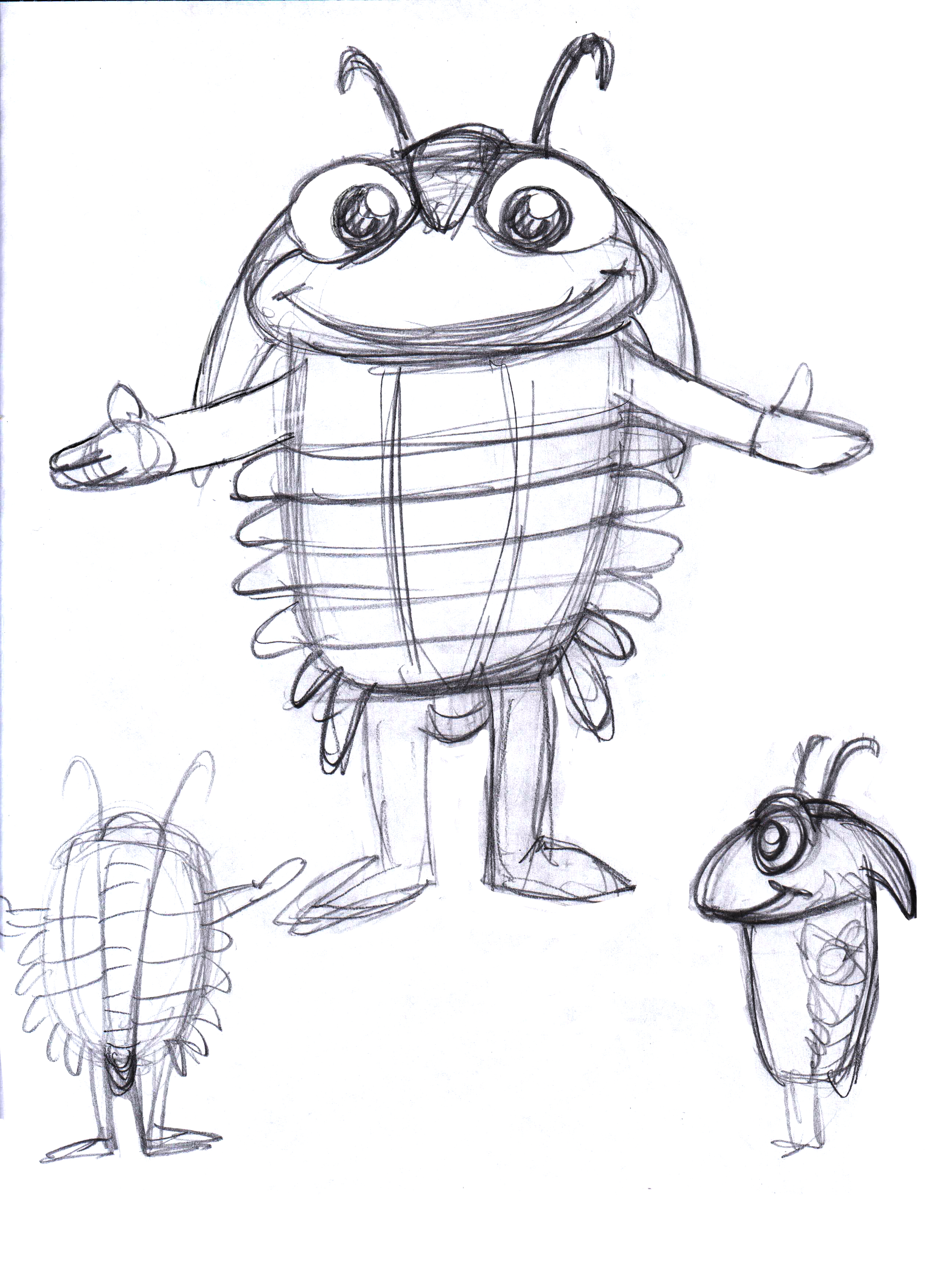 cartoony and kid-friendly as possible, so she focused on this right away: "I have a background in animation, so looking at pictures of trilobite fossils, I immediately realised that roundness of the head and the big areas that looked like eyes could look very cartoony if drawn that way"
Elements of the trilobite's natural anatomy inspired other associations: "The Trilobite shell reminded me of a child's oversized down-filled jacket. The big arm-like antennae of the fossilised trilobite reminded me of pigtails. This inspired me to draw the mascot as a young child. This also met with the client's desires to make the mascot very appealing to children who visit the Centre."
Another consideration was creating a user friendly costume. Our artist gave special attention to ensuring the body proportions made sense and that the head was wearable. "I also knew from experience in designing mascots that I would have to slant the flat head coming vertically out of the body forward to make it appealing and comfortable for the performer to wear."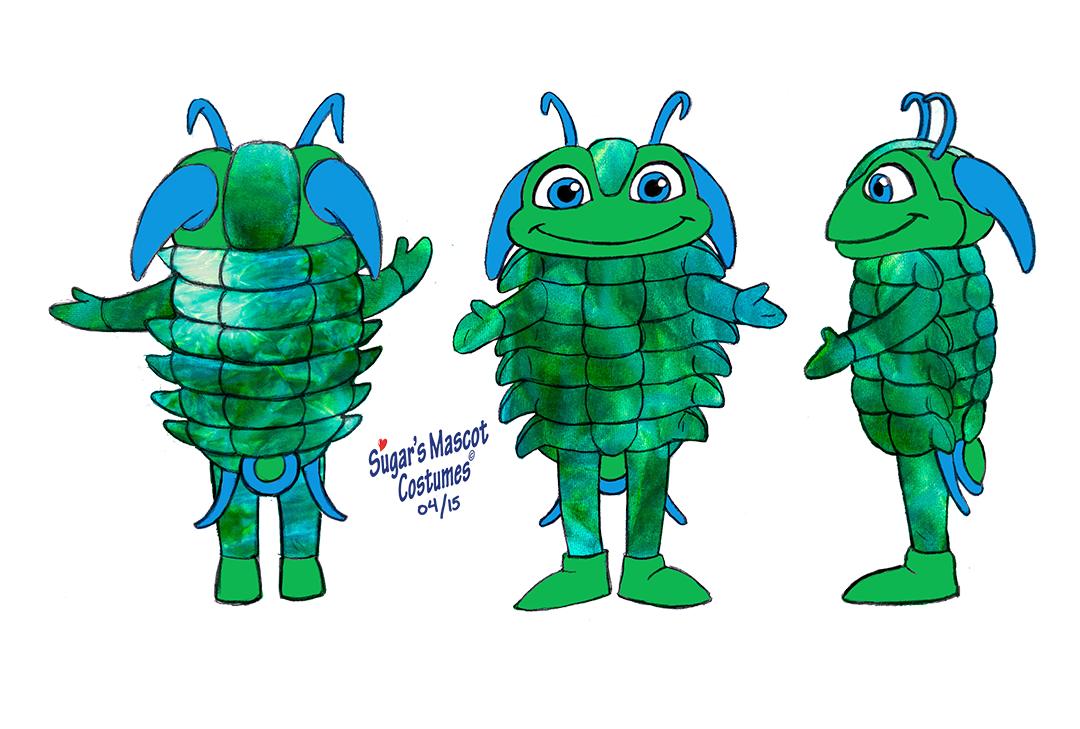 PRODUCTION
Next, Doxi moved into active production, which offered a new set of unique challenges.
In a discussion with our Production Manager, she highlighted the importance of ensuring that the costume had an even transition from the head through to the body. This was our first time creating a trilobite costume, so our team needed to take extra care to make sure that it looked professional and polished. Our Production Manager also recalled the challenge of trying to find a good material based on the client's requests. The client was seeking something tie-dyed in blues and greens based on the pre-existing stuffed version of their trilobite (see photo). This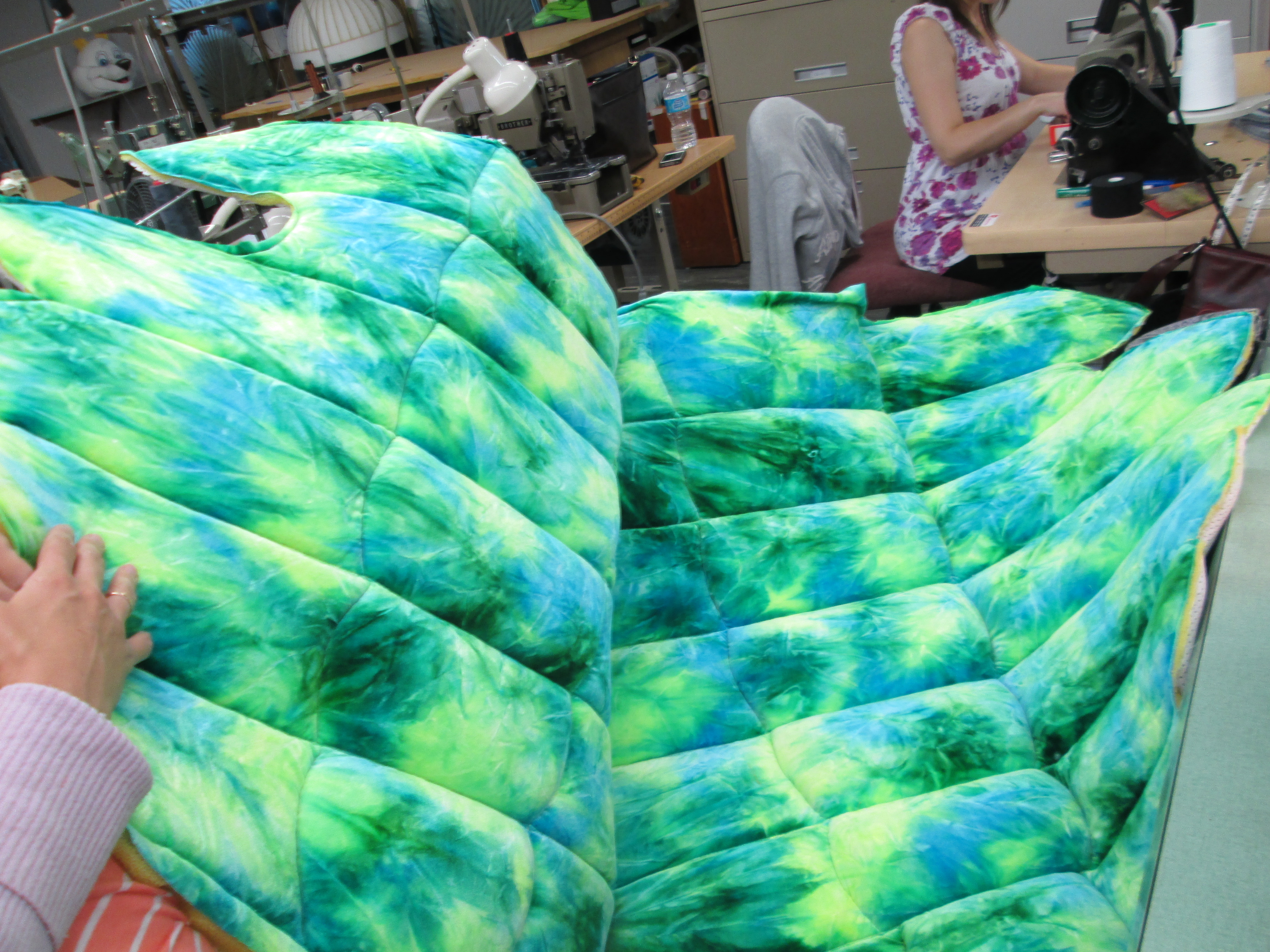 type of material can be hard to come by — fortunately we ended up finding an absolutely perfect fabric that did the job!
All our mascot heads and "shape costumes" are sculpted by our Sculpting Department. Our sculptors use lightweight and durable foams to bring to life the sketches drawn by our artist and approved by our clients. The sculptor must take a number of things into consideration when sculpting a head. They need to ensure that the sculpture reflects the artist's sketch, is visually appealing, and that certain practical considerations such as comfort and vision are being met.
Our sculptor spoke about her experience of carving Doxi with fondness: "I remember Doxi. He is one of my favourites — once he was planned, the carving went pretty smoothly. The head is a bit on the large side so I paid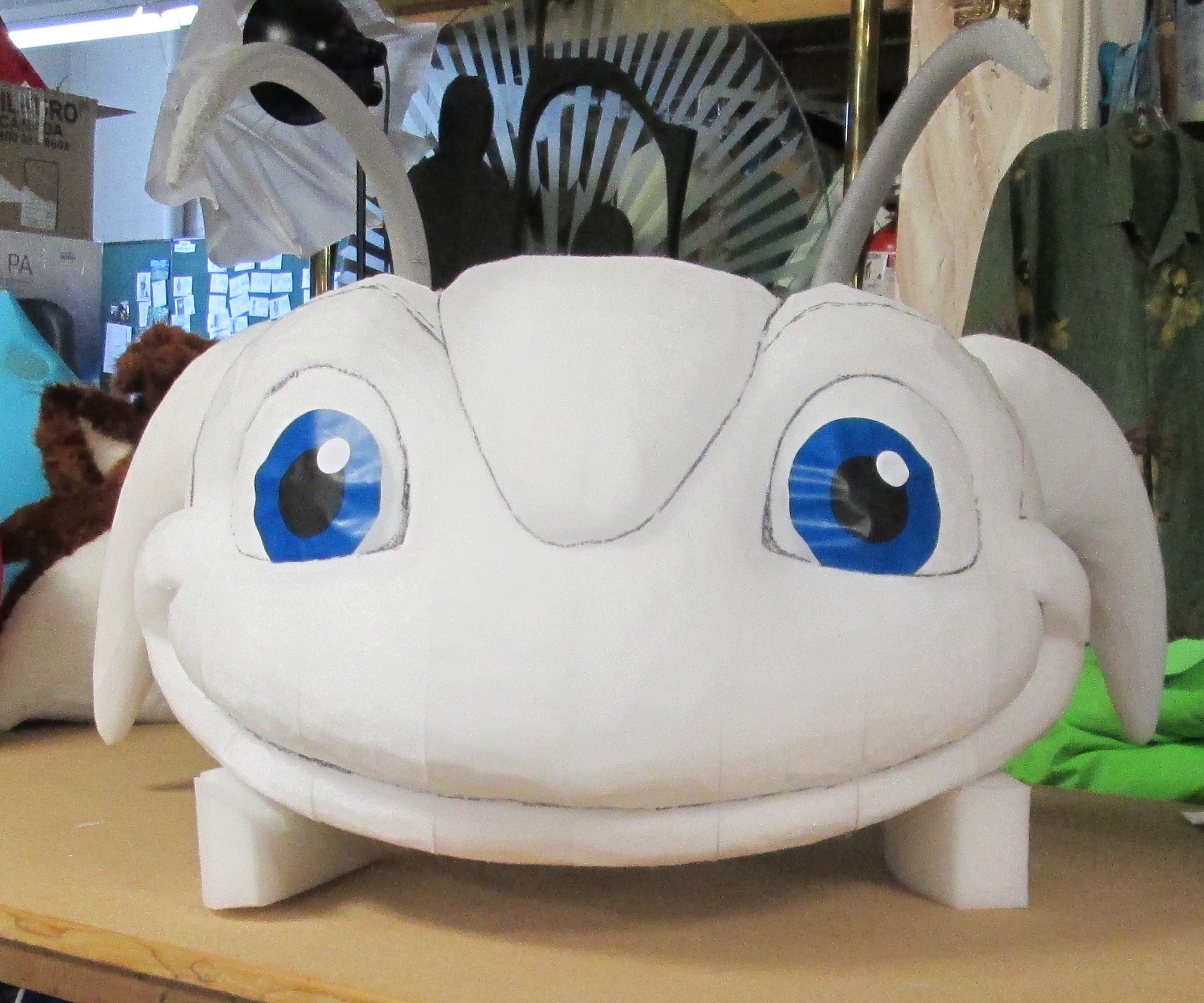 particular attention to making it light and comfortable for the performer. I added hidden vision screens under Doxi's forehead and top lip because the eyes (which are also vision) are wide set and allow for side vision mostly."
Once the body and head were completed, and tried on together, we noticed that there was a gap between them. Our team employed some on-the-spot problem solving (with a deadline fast approaching) and incorporated a neck piece into the costume that achieved the required smooth transition from head to body and completed the look of the character!
THE FINAL PRODUCT
The results were fantastic! Doxi turned out to be just as sweet and cartoony as we had initially hoped and remains a favourite among our team. Check out the final photo here!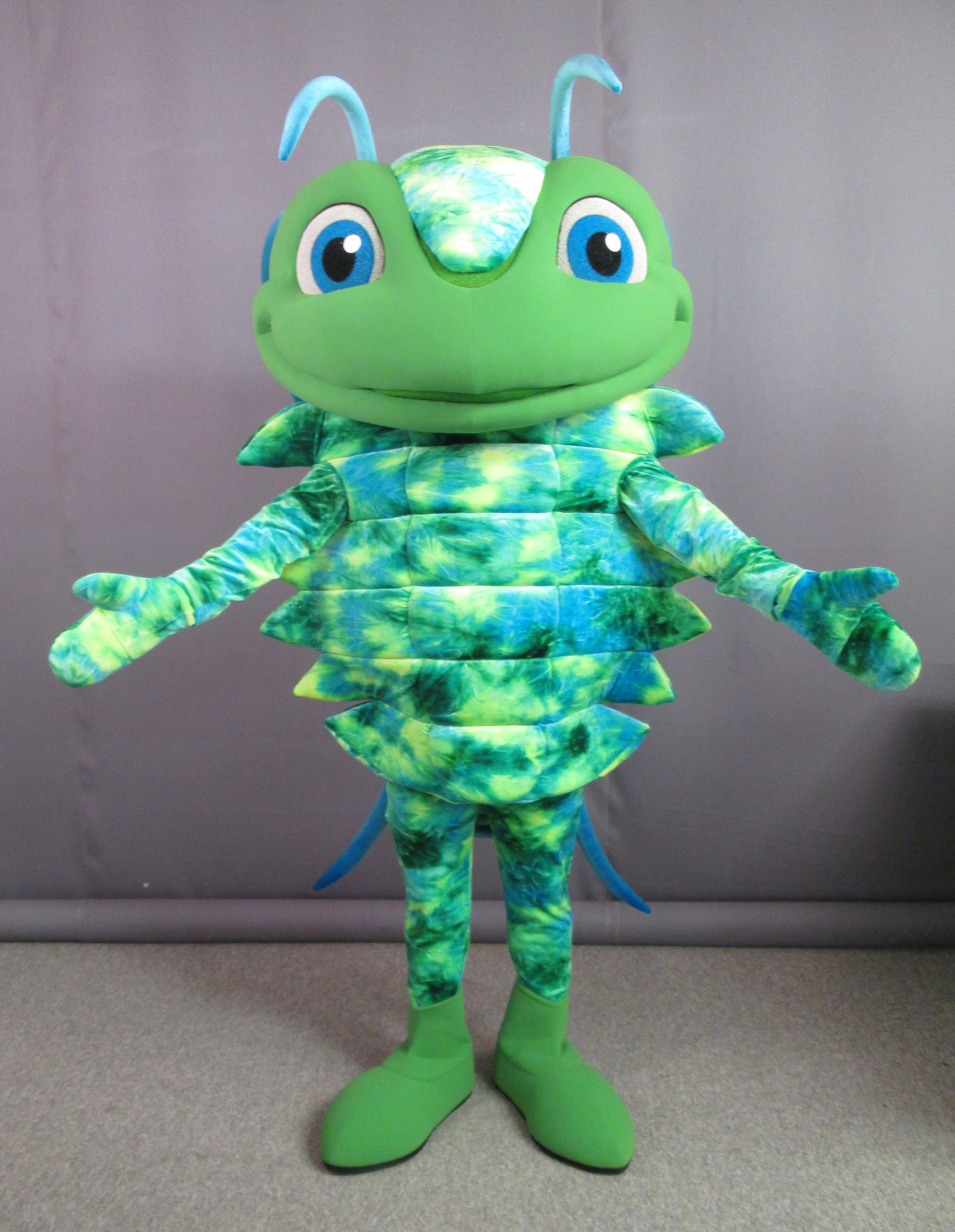 The client was pleased with the finished product as well:
"Awwwwww!   Doxi is majorly adorable!  The personality is just what we wanted!  Thanks for your perfect design, excellent creators and sewers who work well under pressure and your keeping me informed all along the way.  We really appreciate your professionalism!"
The community also fell in love with Doxi, as evidenced in these photos from Doxi's debut.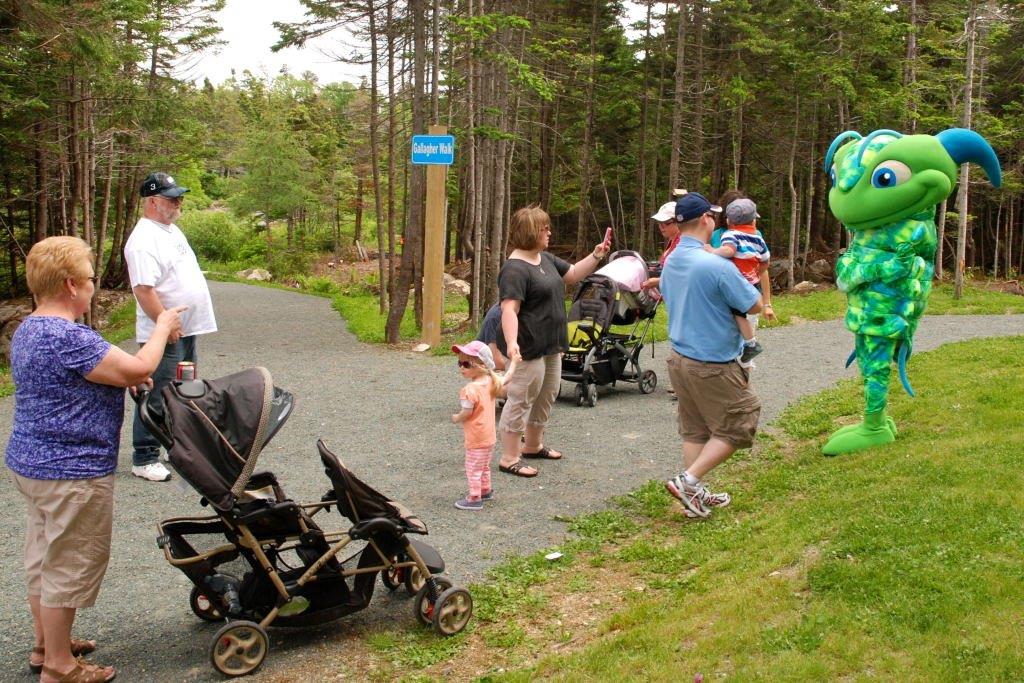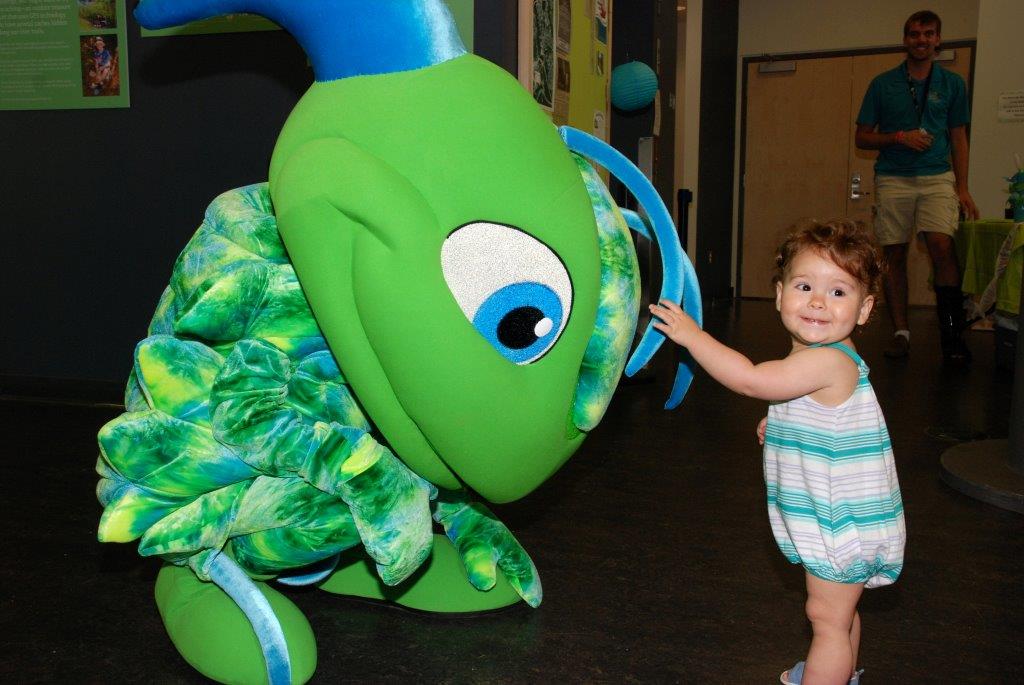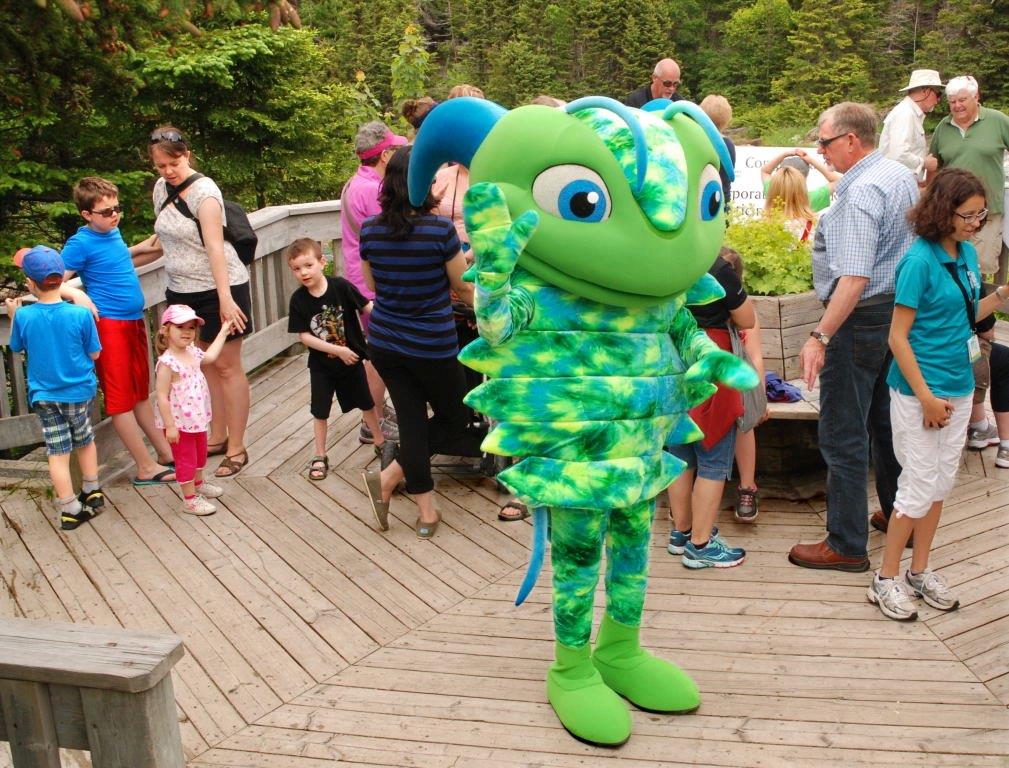 Thank you to Manuels River Hibernia Interpretation Centre and Pat Sword for allowing us to feature Doxi in this article, and for giving us the opportunity to work on such a fun project!