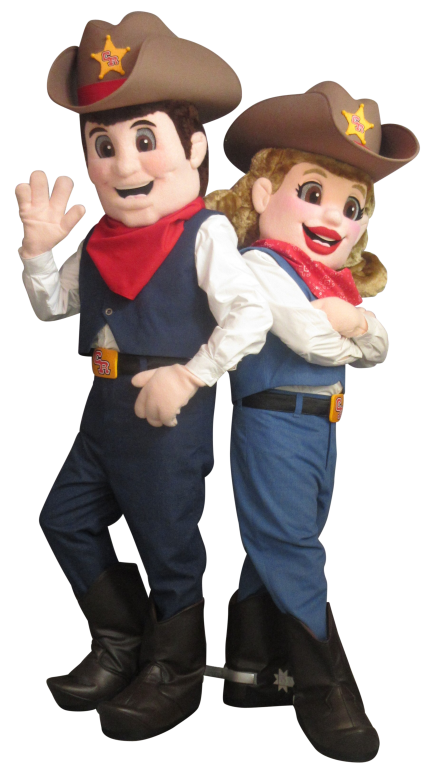 FAQs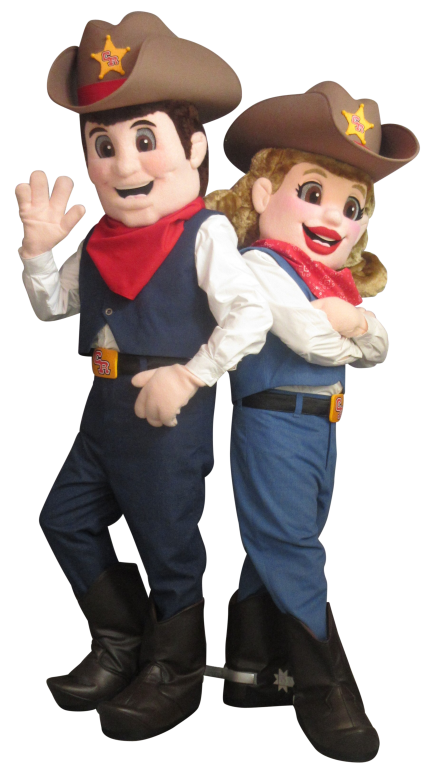 FAQs
What if I don't know all the answers?
That's ok! At this stage, there is still time to confirm the various details.
What is a size range? Is that the size of the mascot costume or the size of the performer? Will the costume fit people of different sizes?
Sugar's Mascot Costumes understands that most mascot costumes will be worn by a variety of performers. Our mascots are designed with a flexible size range in mind, usually a six inch range. We ask you to consider what sort of size range would work for you. Common size ranges are 5′ 6″ to 6″ or 5′ 7″ to 6′ 1" etc. We assume that your performers will be fairly fit. However, your costume is being handmade, and we will build to your specifications. If you think your performers will have a little "natural padding", let us know!
What's an EIN? Why do you need that?
We need the EIN (Employer Identification Number) in order to prepare the shipping paperwork. Also known as the Federal Employer Identification Number (FEIN) or the Federal Tax Identification Number, the EIN is a unique nine-digit number assigned by the Internal Revenue Service (IRS) to business entities operating in the United States for the purposes of identification.
Without the proper EIN, your mascot will be held by United States Customs until one is provided.
Pantone numbers are a universal colour matching system that makes sure we are using the "right" colours when we source materials.
If you have specific Pantone numbers available, we can use them for reference when sourcing materials for your character. This can be particularly important if your organization uses very specific brand colors. If you aren't sure where to get your Pantone numbers, you might try someone who is responsible for having brochures, advertising or other items printed for your organization. Please note: fabrics are not available in every possible Pantone. We use your Pantone number as a reference, and source the closest possible match from the available fabrics.
What if I don't have Pantone Numbers?
Pantone numbers are the only way we can confirm that we are matching a specific shade. Images sent by jpeg are not entirely reliable, as every monitor has its own brightness, contrast, and color levels, and that means a digital photo will look different on every computer it is viewed on.
However, digital images can still be very useful! Please do include them for reference.
If you don't have very specific colours in mind, a good description of what you are looking for is often helpful. "Yellowy-green" or "light blue" are good places to start.
Some of our clients opt to mail us paint chips when they want to match specific colours so that we know we are both looking at the same example.
We have also had people send in business cards, sports jerseys and even stuffed toys for reference.
How do I decide between a fully furred or partially furred mascot?
Where possible, we can eliminate the fur on the parts of a mascot that are covered with clothing. This is more comfortable for the performer, but it means the character must always appear wearing their clothes. Most mascots would never appear "naked", so this is usually a good option.
If you will be putting many different outfits on your clothed mascot you may opt to have the character be "fully furred". This might be a good conversation to have with your sales representative.
How do I decide between a two piece and one piece outer body?
Will your character be a one piece (a jumpsuit style) or a two piece (fur shirt and fur pants)?
A jumpsuit can be convenient because there are fewer pieces to keep track of. A jumpsuit also eliminates any visible "join" at the waist.
A two piece is the most adjustable and can be easily adjusted to accommodate performers of different heights. With most two-piece mascots, the fur bottom is worn with suspenders that can be adjusted to position the crotch of the mascot pants under the performer's crotch, so the sizing can be more adjustable than with a jumpsuit.
When can I see material samples?
We will source materials based on the answers you give to the production questions. Once your sales representative has worked with you to finalize all of the mascot details, we can move forward with looking for materials that achieve what you are looking for, while also being durable and comfortable for your performer. Your sales representative will take photos and videos of suggested materials and email them to you for your review.
Will you mail fabric samples to me?
Yes. If your deadline allows some additional time, we can mail fabric samples to you for your review. If you would like us to send you material samples, you have a few options: you can provide us with an account number for your preferred shipper, we can add the shipping costs to your final invoice, or we can send the sample through regular mail. While generally the cheapest option, we advise against regular mail except in cases where there are no pressing deadlines.
I have to send you a logo, what sort of file do you need?
We can use a number of different file types, but it is important that the file you send be high resolution. We ask for "print ready" graphics. When we are adding logos or graphics to your character or your characters clothing, the quality of the final product depends on the quality of the graphics you send.
What is the estimated completion date?
The estimated completion date is approximately ten weeks after the character is added to the production schedule.
Mascots are added to the production schedule on receipt of your 50% deposit. This means time is booked to work on your mascot. This does not mean we begin work on your character right away; there is a brief period of a few weeks before we go into active production. We must complete the other mascots in our schedule before moving on to new characters. This period is a good time to confirm production details, finalize colours and locate any logos or graphics you may want us to use. It's a good idea to allow an additional week or so for shipping as well.
If you have a specific date or event in mind, please let us know as soon as you become aware of it. We will do what we can to accommodate you.
I got caught in the rain with my mascot, what should I do?
Get to a dry area when you can!  While most mascots will hold up well in the rain, torrential downpours make vision quite difficult. In any case, when you are finished use a towel to sop up some of the immediate wetness and then hang the costume to fully dry. If you are travelling, be sure to remove the costume from your travel bag and hang it back up quickly allowing it to dry… leaving a costume wet inside a bag will develop mildew. Same goes for a sweaty costume – they need to be dried before being stored. Don't forget to check your shoes and leg bottoms for mud stains. If you clean them now, you are less likely to have permanent dirt stains.
If you find you are always out in the rain & mud it might be an idea to periodically treat your clean & dry shoes with something like Scotchgard (following directions and doing a test first, of course).
Can I dry-clean my mascot?
One of our goals is to help make mascotting as efficient as possible however sending your expensive mascot to a dry cleaner is not the answer. Unless specified, NEVER send your mascot for dry-cleaning. Instead, refer to your specific cleaning instructions. Generally speaking, this will include washing it on gentle and hanging to dry. Lost your specific cleaning instructions? We still have them!
Let us know and we'll send you another copy.
Do you carry Ninja Turtle mascots? I need all four.
The Teenage Mutant Ninja Turtles are licensed characters, so you would need to demonstrate that you have the rights to these characters before we were able to build a replica of them. If you do not have the rights to the TMNT, we could make characters that were inspired by their fun and unique look, but we wouldn't copy them.
I have trouble getting into my mascot shoes. Can you help?
Our typical mascot shoes are made to fit up to men's size 11 or 12. It's best to use a low top shoe (perhaps a slip on runner)." Slide your simple shoe into the mascot foot, being careful to maneuver your shoe under the heel bumper of the mascot foot before you put them on your own feet. This way, you can reach your fingers in to secure the shoe in place with the Velcro or provided padding (depending on your shoe style). Now, slip your foot into your own shoe for a snug, comfortable & hygienic fit. If you follow these instructions, you are less likely to damage the shoe.
I can clean my own head, but that neck ribbing really gets grungy and doesn't always come clean… What can I do?
If you're handy with a needle and thread, your best option is to carefully unpick the stitches of the neck opening and wash the facing by machine or by hand. Then hang it to dry. If it's really dirty, you may have to do this a couple of times. Stitch it back into place, being careful to secure the beginning and end knots and keep any seams at the back. If the outside of the neck ribbing is particularly damaged or stained, you can always remove it for cleaning and stitch it back in place using the reverse side out. Alternatively, you can order a replacement from us by sending us your colour and the size of the facing needed.
If you have patterns of heads, why do we need to send you back the original to copy?
Our heads are handmade replicas and while we take excellent patterns, we are not using computerized machines to manufacture and produce your one-of-a-kind mascot. There can be subtle difference in how the fabric or foam is cut and what angle, the tightness of the stitch lines, there can also be slight differences in the smoothing of the foam or stretch of the fabric. Even variations of glue patterns can make a slight difference. When we have the character in-house, we can do direct comparisons and accommodate and adjust for any of these subtle differences. In some cases, where you may be ordering a number of mascots over a period of time, we may suggest that we produce a prototype to be left on site to maintain consistency in your branding.