These characters are generally built to represent a particular brand product or character. They can be a coffee cup, a cell phone, or even a Muppet or a monster. They are usually durable, and immediately identifiable as a representation of your brand.
The defining characteristic of a Shape Mascot is that it doesn't have a detachable head but is rather a shape that may or may not incorporate some sort of face. Shape mascots always stand out in a crowd!
Below are some notes on important considerations for Shape Mascots.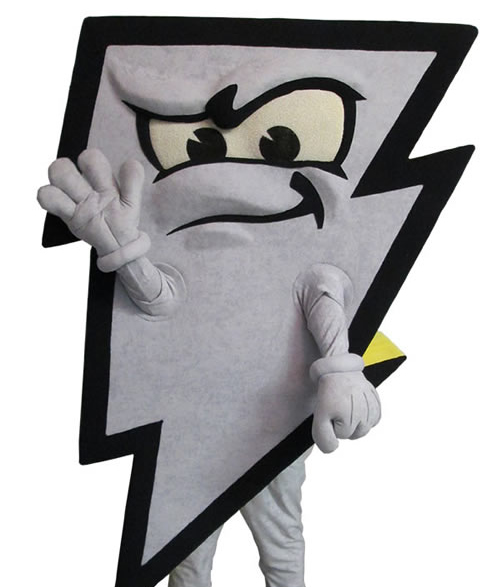 Purpose
One of the most important things to determine is your Shape Mascot's purpose. Branding a product? Community service? Think about the location and environment, and what your mascot will be doing.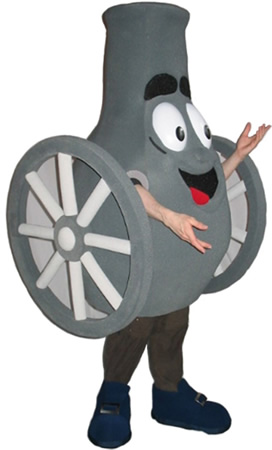 Material Considerations
We often give you the chance to choose between a collapsible or rigid mascot, both of which have their pros and cons. A collapsible character is made of softer foam, and can be compressed to fit into a much smaller packing box, reducing shipping costs substantially. A rigid character has a more defined shape and will generally wear better over time, but won't ship as easily. Some characters must be rigid because of their inherent shape, and some can share aspects of both soft and rigid construction.
In some cases, all or part of the material used to cover the characters may be removable for machine washing. Care must be taken to avoid shrinkage. Other characters without removable coverings must be spot cleaned or cleaned using a hand-held gentle wet-vac as needed.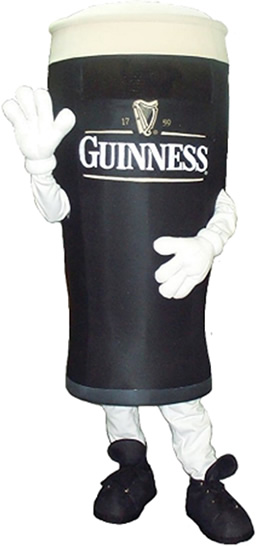 Size & Perspective
To determine size, take a human silhouette and place it over the image of your mascot design. While keeping the ratio of the silhouette constant you can enlarge or shrink it to fit in your sketch. If this is a person around 5'8" or 5'10", you can imagine what the height of your overall shape will be when complete. Will this fit through a standard doorway? Will it fit into a car, or will you need a van? Will a single performer be able to support your mascot?
The depth of a character will influence whether a performer is centered within a costume, or close to the front. This can affect vision placement, and whether or not the performer's face will be visible, or should be hidden behind a screen.
The width (and occasionally depth) of a character can influence armhole placement. You will not get full-length arms out of the side of a mascot that has a diameter of 55" – they would more logically be placed toward the front of the character, which is a more natural position for the performer. Even with such positioning, you most likely will only see partial arms and hands on a large character. However, you may find that your shape mascot won't need exposed arms at all!
Branding
Where will you place cresting or corporate identification? Keep in mind that too much branding can detract from the character.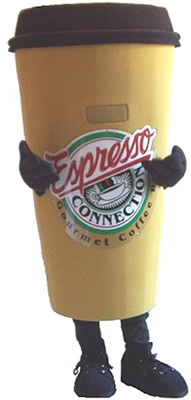 Feet
Our walkabout feet weigh approximately 17 to 25 oz. each, which allows for fairly vigorous activity. Since many people may wear the costume, we have designed the feet in a way that makes them more sanitary, as the performers can wear their own street shoes inside. They are made from a flexible, durable soling with a hand carved upper shoe which is reinforced to last.
Hands
What will your character be doing with their hands? Will they need dexterity to sign autographs? Hand out paper or cardstock brochures? What about handling of doors or equipment? The larger and more padded the hand, the less dexterity will be exhibited. Most shape mascots have cartoon mascot gloves, but there are also aesthetic options such as points, claws, decorative paw pads, gauntlets or hand branding.
Do you need to incorporate brochure or sample storage into the design?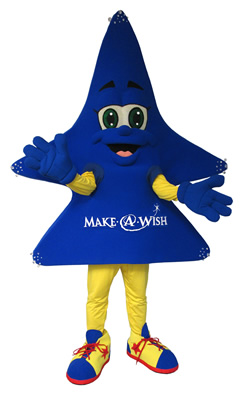 Heat Control
It can get hot in a Shape Mascot. While the best air-conditioning will always be a good attitude, there are some helpful things you can do to ease the heat:
Have your mascot constructed with an exhaust fan to expel hot air.
Purchase a cooling vest system, or, even better, a dual cooling and hydration vest.
Strategically placed or hidden venting can allow extra air flow that works in conjunction with your exhaust fan, and make your Shape mascot extra comfortable.
Using breathable and/ or wicking fabrics for arms and legs can provide much needed relief.