A mascot just might be one of the best investments you could make for your corporate or team image.
Mascots build team spirit and cooperation in schools and the community. Sports teams have shown repeatedly that mascots enhance your corporate image and are very effective for building loyalty and recognition. A good mascot costume will enhance the visibility of a company, team, school or brand and creates a meaningful experience.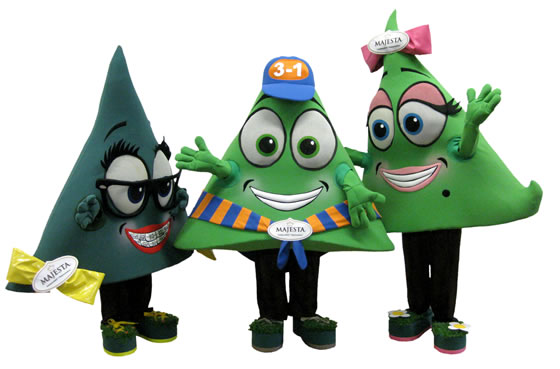 Mascots create goodwill for your organization
A well designed mascot will eventually come to be your well known and instantly recognizable branding. Mascots can interact with the public in real life, real time and create an emotional connection with your brand audience. Someone probably won't remember that message you posted through social media last week, but they will remember the time your mascot danced with their child (and their child couldn't stop talking about that mascot for weeks afterward!)
Mascots are much more than a costume
A mascot becomes the brand ambassador for your company. This character can be used as part of an integrated marketing plan across different mediums, or on its own, to help to create a unique identity for your company, school or sports team.
Mascots are memorable
We are bombarded with advertising messages through so many mediums that we have become desensitized to them. Often, we are given a choice to just 'skip' the advertising! Using more tangible modes of advertising (such as a mascot) will make you stand out. A three-dimensional , hugging, high-fiving mascot will enhance an already established marketing campaign, or you can use it as the basis of a fresh new campaign.
The dollars and "sense"…
Yes, a mascot may seem like a big upfront investment. However, this is more than just a monetary investment. This is an investment in the future of your brand, in your school spirit and participation of your sports team. Over the ten or more years that your mascot will last, using your character for promotional purposes will cost exponentially less than many other mediums including print, radio or web marketing. Marketing with a mascot just makes sense!
Finally! You have your mascot! Your vision has come to life… now what?
With a little clever thought behind your marketing to ensure that your mascot costume has strong ties to your brand identity and your marketing message, your mascot can generate a lot of attention from both the adoring public and media journalists looking for a good human interest story. Creating a Mascot Plan will help keep you on track! It isn't enough to just bring your costume to a couple of events, and hope to turn a profit.
Come up with a mascot program
The more you put into your mascot, the more you will get out of it! A detailed Mascot Plan should outline your character's personality, your target market, your marketing message and the basic how, when and why your costume will be used. Think of it as a work in progress, as you may want to change the message over time.
Make your mascot a local celebrity
Use your character to gain local awareness for your school, sports team or organization. Consider signing your mascot up for charity walk-a-thons, parades, street appearances and photo opportunities in the media. If used correctly, a mascot can truly be a popular local brand ambassador.
Get creative
Think about unique ways that you can build your brand and develop this character. Perhaps you would like to provide personal appearances for hire. Perhaps you would like to sell a colouring book, or stickers, or sell stuffed animal versions of your character. Perhaps you would like to add graphics of this character to your website and other branding. Have fun!
Personalize social media for your mascot
Provide your mascot with even more opportunities to interact with the public by creating a Facebook, Twitter or Instagram account. Consider having your performer run these accounts as your mascot character to help build and maintain a fan base for your character!